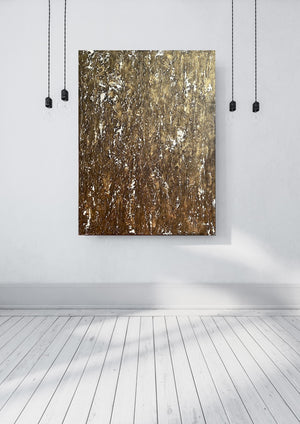 Sister Zozo
Memory Tree
Sale price Price $2,150.00 Regular price
Memory Tree is a metaphor for my wish for all of us to learn from the past, cherish the present and nurture the future. It's a metaphor for a giant magical tree that keeps the wisdom of generations and helps us as societies and communities to stay true to what is important and ignore the things that shall past being insignificant distractions. Golden wax is chosen as a symbol of something very precious.
Created during the spread of covid-19, 2020.
Memory Tree has a lot of textures accentuated by golden wax. It will look good on both white and dark backgrounds, with the natural or artificial light sources. 
Size:  36  W x 48 H x 1 in | 91.5 W x 122 H x 4 cm

Materials: Mixed Media: Acrylic on canvas and Golden Wax.  The painting is varnished and ready to be hanged. The signature of the artist is in the corner of the painting. 
Shipping: Free Delivery in Singapore. Worldwide shipping available. Shipping in a tube would be approximately USD $100-150. Shipping it framed in a custom-made box would be approximately $400 USD+.