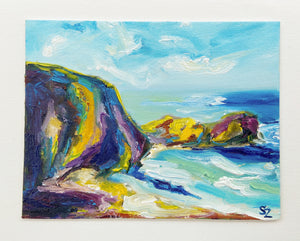 Sister Zozo
Memories Of Joy
Sale price Price $60.00 Regular price
Memories Of Joy is a part of a Daily painting collection created during COVID-19 quarantine. 
Oil on canvas board. 
8 x 8 inch | 20.32 x 20.32 cm. The frame isn't included.
Worldwide shipping in a cardboard envelope (Registered mail by Singapore Post). 
I came to the realization that I refuse to live and wait until it gets better. Worrying takes away the beauty of the present. This collection of daily painting during COVID-19 quarantine was created as a daily tribute and gratitude to life as a whole. 
The proceeds of this collection will go to cover the rent of my studio, which I can't access at the moment, my materials and donations to two charities supporting vulnerable communities during COVID-19 crisis who are missing something important what we all can't take for granted now - having a home :
1) Nochlezhka providing assistance to homeless people in Russia. 
2) The Alliance of Guest Workers Outreach (AGWO) providing welfare for migrant workers in Singapore.