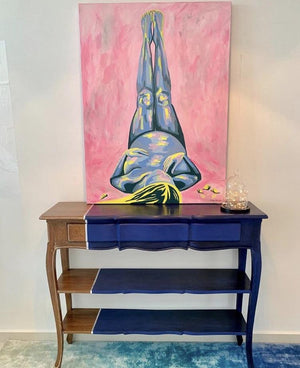 Sister Zozo
SOLD Bliss 2017 | Hopes and Fears of A New Life
Sale price Price $1,230.00 Regular price
Pregnancy is full of hopes and fears, it is beautiful and unique and somewhat lonely. It is colourful, it is loud, magnifying, radiating and overwhelming. It is tender and loving, and it is hurting.
I have chosen a Durian fruit as a symbol of pregnancy and fertility. 
Size: 30 W x 40 H x 1.6 in | 76.2 W x 101.6 H x 4 cm
Materials: Acrylic on canvas, varnished. The painting is varnished and ready to be hanged. The signature of the artist is in the corner of the painting. 
Year of creation: 2017.
The painting is SOLD and lives in Singapore.