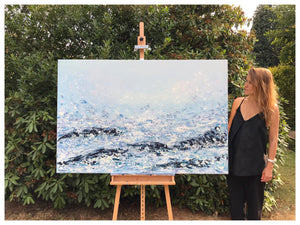 Sister Zozo
SOLD Music Of The Sea
Sale price Price $2,130.00 Regular price
Music Of The Sea was a commissioned order in Belgium. It is a large interior piece ordered to become a centerpiece of a large living room visible from all points of the space. 
The art collector had a specific size in mind and wished for an abstract expression on the topic of the sea and water. It is a structured painting with many layers of paint and structure paste creating playful textures on the canvas.
Size: 59 W x 39 H x 0.75 in | 150 W x 100 x 2 cm
Materials: Acrylic on canvas, structured paste. 
Year of creation: 2018. 
The painting is SOLD and lived in Belgium.