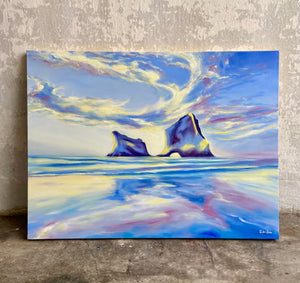 Sister Zozo
Sunrise At Wharariki
Sale price Price $1,800.00 Regular price
Sunrise At Wharariki is a commissioned order which I completed in July 2020. 
It's a beautiful story. The buyer is a husband who teamed up with a group of friends to present a unique gift to his dear wife. Apparently they've been following me for a while. Their trip to Wharariki beach in New Zealand was a special memory so we have chosen Wharariki as The Central theme. We spoke about the feelings he wanted the painting to evoke and attached quite a few symbols to this art piece. ⠀
⠀
I am really happy how it turned out, I spent a lot of time planning this piece so I can meet the expectations and stay true to myself as an artist. We planned to send it in a tube but eventually shipped it famed as is in a large box, though it was pricey because Melbourne is under a lockdown and framing it would have taken too long. ⠀
⠀
He presented it to her with a bunch of letters from friends participating in this gift. I feel very grateful that such special humbling moments connect me to people for life. I never know where my art would bring me, and each destination is amazing.⠀
Materials: oil on canvas.
Size: 40 W x 30 H x 1.6 in | 101.6 W x 76.2 H x 4 cm
The painting was shipped to Melbourne, Australia in a custom made box. The price of shipping was approximately 450 USD. Shipping such a painting in a tube would be USD $200.