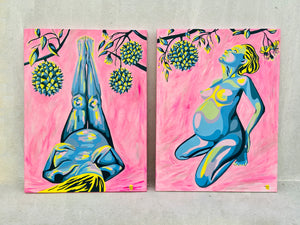 Sister Zozo
Cosmos and Bliss Diptych
Sale price Price $2,500.00 Regular price $4,000.00
Pregnancy is full of hopes and fears, it is beautiful and unique and somewhat lonely. It is colourful, it is loud, magnifying, radiating and overwhelming. It is tender and loving, and it is hurting. I have chosen a Durian fruit as a symbol of pregnancy and fertility. 
These reflections became a foundation for a series of paintings I have created in 2016-2019 with a title Pregnancy Hopes And Fears. 
I can call the style I have chosen for this series as Modern Tribal to reflect the connection I feel to women who carried their children centuries ago and those who will do it centuries after. 
These are the latest 2 paintings from the series from 2019 and I really like them as a diptych, a Duo where paintings complete one another.
Unfortunately, The Cosmos piece (on the right) was damaged during transportation from an event, the canvas got a hole and got restored(see last picture). Therefore I am giving a large discount for this piece.
Size of each painting: 30 W x 40 H x 1.6 in | 76.2 W x 101.6 H x 4 cm
Materials: Acrylic on canvas, varnished. The painting is varnished and ready to be hanged. The signature of the artist is in the corner of the painting. 
Shipping: Free shipping in Singapore. Worldwide shipping is available in a box or a tube. Shipping them in a tube will be approximately USD 100-120.