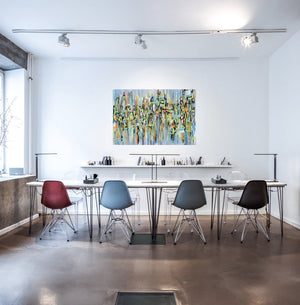 Sister Zozo
SOLD Freedom House
Sale price Price $365.00 Regular price $550.00
Freedom House is inside you. It is the space where your are free, you are your true self, where you are the most vulnerable and the most protected, where you rejuvenate and flourish. Only you can build the Freedom House for yourself.

Freedom House depicts a process of working on yourself, it is a protest and a path to inner peace at the same time. Freedom House is your place of power in the urban jungle.

Letters forming Freedom House are hidden on the painting.
Size: 36 W x 24 H x 0.8 in | 91.4 W x 61 H x 2 cm
Materials: Acrylic on canvas. 
Daring brush strokes, palette knife.  The painting is varnished and ready to be hanged. The signature of the artist is in the corner of the painting. 
Year of creation: 2017.
Shipping: Free delivery in Singapore. Worldwide shipping available.