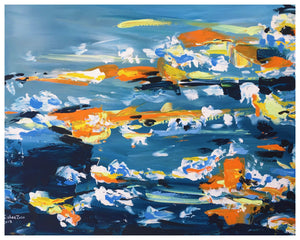 Sister Zozo
SOLD 7pm. There.
Sale price Price $450.00 Regular price
Sunset there, by the sea, where I felt happy and at peace. I felt recharged with positive energy and confidence for tomorrow. I was bubbling with colourful the most daring dreams.
Bright, vibrant, energetic, positive painting full of movement.
Materials: Acrylic on canvas. 
Daring brush strokes, palette knife.  The painting is varnished, and ready to be hanged,The signature of the artist is in the corner of the painting. 
Year of creation: 2016.
The painting is SOLD and lives in Belgium.