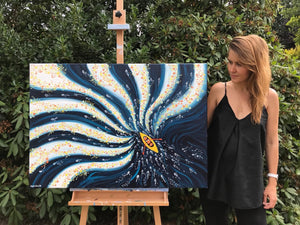 Sister Zozo
SOLD Yellow Boat 2018
Sale price Price $630.00 Regular price
Yellow Boat depicts an adventure of three redheads in a yellow boat going through magic waters being accompanied by jellyfish. It is a tribute to companionship, to those who dream and explore. 
Size: 39 W x 27 H x 1 in | 100 W x 70 H x 4 cm
Materials: Acrylic on canvas. Varnished. 
Year of creation: 2018
The painting is SOLD and lives in Belgium. It brightens up a room of one wonderful child.  If you want your own Yellow Boat, feel free to contact me to order a comission.